November 25, 2013
ISO & AGENT
The Sum of the Parts
November 9, 2013
FRONT RANGE BIONEERS CONFERENCE
The Social Enterprise Solution and B(enefit) Corp Movement:  What It Takes To Be The Best FOR The World
During this session, Seana Steffen of Restorative Leadership Institute will explore the meaning of being a social enterprise and the process of becoming a third-party certified B Corp.  Leaders of Front Range social enterprises and Colorado B Corps will discuss challenges and opportunities in the movement to redefine business.  Panelists include: Seleyn DeYarus of Best Organics and Mark Fischer of Inspire Commerce, Amanda Bybee of Namaste' Solar, and Hannah Davis of Impact Hub Boulder.  Our work will be interactive, engaging the B Impact Assessment as a tool for measuring what matters in business and a restorative leadership framework for creating new possibilities. As Martin Luther King, Jr said, "A movement that changes both people and institutions is a revolution." Join us in this important work at this planet-critical time!
November 6, 2013
2013 AACUL WINTER CONFERENCE
Inspire Commerce Presents to Industry Leadership
October 24, 2013
2013 UBA FALL COMPLIANCE CONFERENCE
eWallet and the Death of Interchange
What is E-wallet? How is it defined? What does this mean for your business? With new and innovative ways to pay for merchandise, E-wallet is an emerging solution that may create some sticky situations a business might encounter when implementing this service into their operations. Join us to untangle the web of issues and learn how this technology is creeping up and changing the payment industry.
August 6, 2013
ENTREPRENEUR MAGAZINE
Everything You Need to Know about B Corporation Certification
B Corporations were well represented in the last edition of Entrepreneur Magazine, and Inspire Commerce's CEO, Mark Fischer, was quoted in this article:
The Right Financing
Another reason to do the B Corp self-assessment early on is to partner with investors who share your goals. "Do not wait until after you've raised capital," Sampselle advises. The time to sell shareholders on your social mission is before you take their money, not after.
Mark Fischer, CEO of Inspire Commerce, concurs. His Boulder, Colo., tech company donates 10 percent of gross revenue to charities, gives employees one of the three board seats and turns away any customer it can't help save money. ("We probably send three merchants away for every merchant we sign up," he says.)
Before he raised $500,000 from friends, family, angels and industry contacts last year, Fischer got his B Corp certification. "Without that, there would be issues," he says. For added measure, he makes mention of the company's B Corp status–and its responsibility to customers, employees, community and shareholders alike–right in its subscription agreement and term sheet.
It may seem like extra effort to ensure that your business stays on mission. But for B Corp devotees, that's the point. "Being a B Corp is not a marketing ploy," Fischer says. "It really is a different way of being in the world."
June 25, 2013
KGNU Radio
It's the Economy
Mark Fischer joined Seleyn DeYarus from America's Best Organics, Amy Haddon of Renewable Choice Energy, and Heather Van Dusen from B Corporation on KGNU radio's 'It's the Economy' show to discuss Benefit Corporations in Colorado.  They shared, in an hour long, lively discussion as to why, as executives of companies based in Colorado, they chose to integrate this corporate format into their business.
May 30, 2013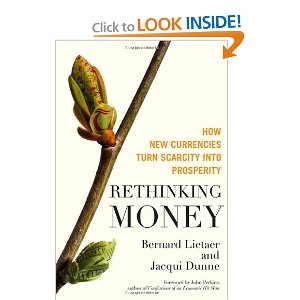 Mark Fischer, Inspire Commerce's CEO and Founder, is  featured in the newly published book Rethinking Money: How New Currencies Turn Scarcity into Prosperity, by Bernard Lictaer and Jacqui Dunne!  Mark contributed to Chapter 6, Strategies for Banking, with a distinct focus on emerging technologies.  He combined his background as an internet strategy consultant with his current role at Inspire to help explain the past, present, and future of online payments.

Nov 16, 2012

SUCCESS.COM

Inspire Commerce CEO, Mark Fischer, interviewed as part of a larger agile business article.

Sep 11, 2012

BUSINESSWIRE.COM

BOULDER, Colo.–Inspire Commerce, developer of the world's first universal financial transaction technology platform, today closed its $500,000 seed funding round with investments from merchant services provider Axia and The Story Stock Exchange venture fund.

Aug 19, 2012

CUTIMES.COM

Inspire Commerce CEO, Mark Fischer, Quoted in Credit Union Times.

Aug 1, 2012

LABZIP.COM

InspirePay provides you a personal branded page to accept payments via Credit Card, PayPal, Dwolla, Authorize.net, Sage, and more. Best of all it's FREE. Watch this short video to see how you can use InspirePay to aggregate all of your available payment options into one simple and easy-to-use page, without a shopping cart or use of any hardware.

Jul 20, 2012

NEWRULESOFINVESTING.COM

Continuing the riff from a recent post, How to market financial services without all the hype, I invited Joanna Wiebe, author of the CopyHackers series and an axe in financial copywriting focused on conversion  to address our small, exclusive group in the accelerator.

Jun 12, 2012

MARKFISCHER.ME

This article was first published June 12, 2012, by Joanna Wiebe of Copy Hackers in her monthly copyhackers newsletter.  If you haven't read her books and you market products online, you should! http://copyhackers.com. A must read.


Feb 22, 2012

BLOG.DWOLLA.COM

InspirePay is pretty slick. The platform was built to easily provide anyone a simple way to receive money online. What makes InspirePay unique is that they allow you to get paid in whatever way is easiest for your donors, friends, or customers.

Feb 21, 2012

BANKINNOVATION.NET

At its core, InspirePay is a payments aggregator that lets merchants offer a variety of payment options online through a branded interface. People — Fischer's preferred term to merchants — build pay-me pages at InspirePay, a task that he says is as simp

Feb 15, 2012

ECOMMERCEBYTES.COM

Two like-minded companies, InspirePay and Dwolla, have come together to disrupt the credit card industry and shift the power back to the people. Together, Dwolla and InspirePay are challenging the status quo.

May 9, 2011

DAVINCI INSTITUTE

Mark Fischer, Inspire Commerce CEO, recently spoke at the DaVinci Institute's "Future of Micropayments" roundtable, which is part of the Night with a Futurist series. Mark served on a panel alongside Thomas Frey, Director of the DaVinci Institute; Arthur Brock, founder of the MetaCurrency Project; & Rod Stambaugh, founder of Mocapay. The panel was moderated by Mike Cote, Editor of ColoradoBiz Magazine.